RESULTS: DDSL SFAI Skechers National Cup Round One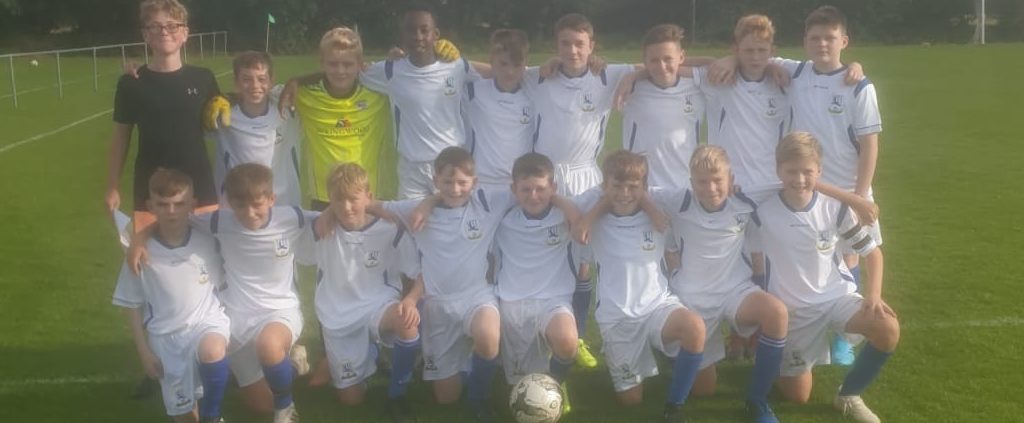 The first weekend of SFAI Skechers National Cup action got underway in the DDSL region last Saturday and Sunday, and there was plenty to celebrate for many teams as they booked their place in the next round.
The overall competition sees 1,500 teams take part, and those that qualify from the DDSL region in November will go into the National Round of 32.
Several teams picked up wins on the road at the weekend, and there were some very impressive displays from a number of clubs.
Below are the results, and the draw for the next round can be found HERE
U12
| | | |
| --- | --- | --- |
| Home Farm FC P | 5-1 | Shamrock Rovers Academy B |
| Cabinteely 12.2 | v | Home Farm FC M1 |
| Glasnevin FC Sunday D | v | Firhouse Carmel FC B |
| Drogheda Boys FC 12.2 | 3-0 | Knockmitten / Bluebell united c |
| ST KEVINS BOYS 12 P | 5-1 | Dundrum FC B Sunday |
| Lusk United AFC 12.2 | 1-0 | Drumcondra 12.1 |
| Mid-Sutton FC Sun | 1-5 | Templeogue United P |
| Killegland afc M | v | Dalkey Utd B |
| ST KEVINS BOYS 12 Sun 3 | 5-0 | Lourdes Celtic FC B1 |
| Lourdes Celtic FC Sunday A | 5-2 | Larkview FC B1 |
| Shelbourne FC Academy P | 5-1 | Swords Celtic fc A1 Sat |
| Belvedere Football Club A | 3-0 | Mount Merrion Youths FC 1 |
| Leixlip United P | 0-2 | St Josephs Boys Inter Sat |
| Park Celtic FC D | 0-3 | Peamount Utd. A |
| Beechwood FC A | v | Cambridge fc B2 |
| Collinstown FC B1 | 1-5 | Leicester Celtic FC P |
| Crumlin Utd Fc P | v | Portmarnock AFC A |
U13
| | | |
| --- | --- | --- |
| St Josephs Boys Premier | 5-0 | Lourdes Celtic FC P |
| Malahide United P | 0-4 | ST KEVINS BOYS 13P1 |
| Ballyoulster United M1 | 3-1 | Firhouse Carmel FC M |
| Leicester Celtic FC M1 | 0-5 | Leixlip United P |
| Arthur Griffith Park FC | 0-5 | Cabinteely M |
| Corduff FC 13M | 2-1 | Dalkey Utd M1 |
| Drumcondra 13.1 | 2-0 | Shelbourne FC Academy M1 |
| St Francis FC P | 3-1 | Cabinteely P |
U14
| | | |
| --- | --- | --- |
| St Josephs Boys Premier | 3-0 | Arklow Town fc sat major |
| Beechwood FC S4 | 0-2 | Esker Celtic FC M |
| Collinstown FC M | (8)5-5(9) | Cabinteely P |
| Shelbourne FC Academy P | 0-2 | Finglas United M1 |
U15
| | | |
| --- | --- | --- |
| Lourdes Celtic FC M |   3-5 | St Joseph's Boys Premier |
| Phoenix football club M | 1-2 | Leixlip United M |
| Marks celtic fc M1 |   5-1 | Dalkey Utd Sunday 1 |
| Drogheda Boys FC A | 0-5 | Malahide United P |
| Bohemian FC M1 | v | ST KEVINS BOYS 15P1 |
| Rathcoole Boys A1 | 2-5 | Templeogue United M1 |
| Cherry Orchard P | 5-0 | ST KEVINS BOYS 15M1 |
| St Francis FC P | 2-1 | Home Farm FC M |
| Beechwood FC S3 | 3-0 | Home Farm FC M1 |
| Wicklow Rovers U 15 Major1 | 2-5 | Raheny United Elite |
| Corduff FC 15P | 3-4 | Shelbourne FC Academy P |
| Cabinteely P | v | Leicester Celtic FC M1 |
| Finglas United 15.2 | 5-0 | Collinstown FC M1 |
| Peamount Utd. Major | 4-2 | Stella Maris FC 1 |
| Home Farm FC P | 5-1 | Ballyoulster United M1 |
| Rathcoole Boys A | 3-4 | Park Celtic FC B |
| Greystones Utd AFC P 2 | 5-2 | Knockmitten / Bluebell UTD |
| Cherry Orchard M | 1-3 | St Mochtas FC P |
U16
| | | |
| --- | --- | --- |
| Home Farm FC M1 | 0-3 | Enniskerry YC AFC |
| Finglas United A1 | 2-5 | Cherry Orchard M |
| Wayside Celtic P2 | 4-5 | St John Bosco FC Premier 2 |
| Rathcoole Boys M1 | 5-0 | Phoenix football club A |
| ST KEVINS BOYS 16P1 | 3-0 | Bohemian FC M1 |
| Raheny United A | 0-3 | Shelbourne FC Academy P |
| Belvedere Football Club P | 5-0 | Beechwood FC S1 |
| Dalkey Utd A | 1-5 | Cherry Orchard P |
| Malahide United P | 2-3 | Larkview FC M |
| Shamrock Rovers Academy P | 0-3 | Bluebell United AFC A1 |
| Mount Merrion Youths FC 1 | 2-0 | Esker Celtic FC M |
| ST KEVINS BOYS 16P2 | 2-1 | Celbridge Town P2 |
| Newbridge Town FC P | 3-0 | Park Celtic FC C |
| Rathcoole Boys C1 | 0-3 | Firhouse Carmel FC P2 |
| ST KEVINS BOYS 16A1 | 5-0 | Beechwood FC S2 |
| Verona Premier 2 | 3-0 | Shelbourne FC Academy P2 |
| Marks celtic fc B | 3-0 | Newbridge Town FC A1 |
| St Josephs Boys Premier | 5-0 | Peamount Utd. A |
| Stella Maris FC 1 | 3-0 | Lourdes Celtic FC M |
| Greystones Utd AFC P 2 | 0-5 | Cabinteely P |
| Phoenix football club P | 4-0 | Newbridge Town FC M |
| Drogheda Boys FC Major | 3-0 | Leicester Celtic FC M |
| Stella Maris FC 2 | 0-3 | St Francis FC P |
https://sfai.ie/wp-content/uploads/2019/09/Ballyoulster-U13s-e1569002859524.jpg
600
1024
Maeliosa Kyne
https://sfai.ie/wp-content/uploads/2022/07/cropped-SFAI-PNG-2-300x300.png
Maeliosa Kyne
2019-09-20 19:07:50
2019-09-20 19:07:50
RESULTS: DDSL SFAI Skechers National Cup Round One