RESULTS: Cork Region SFAI Skechers National Cup Round One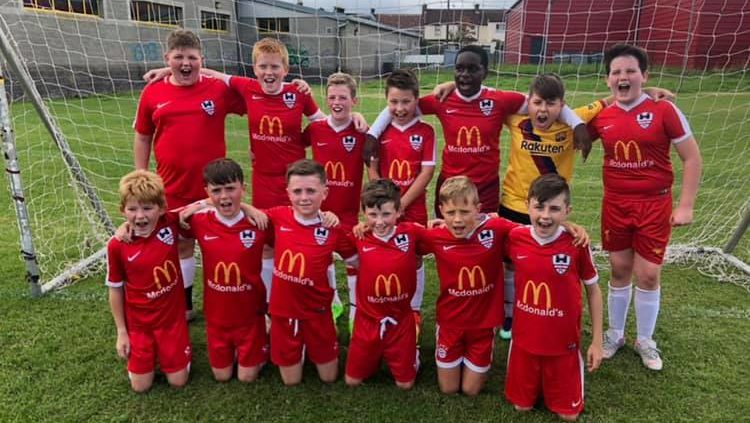 The first weekend of SFAI Skechers National Cup action got underway in the Cork region on Saturday and Sunday, and there was plenty to celebrate for many teams as they booked their place in the second/third round.
The overall competition sees 1,500 teams take part, and those that qualify from the Cork region in November will go into the National Round of 32.
Several teams picked up wins on the road at the weekend, and there were some very impressive displays from a number of clubs.
Below are the results, and the draw for the next round can be found HERE
U12
| | | |
| --- | --- | --- |
| Wilton United D1 | 4-2 | Corinthian Boys A |
| Carrigaline United AFC P | 3-0 | Crosshaven AFC A |
| Mallow Town FC D2 | 1-0 | Rockmount A |
| Leeside AFC A | 3-0 | CastlelackFC b |
| Avondale United D2 | 5-0 | Carrigtwohill Utd AFC C3 |
| Ballincollig AFC D4 | 0-5 | Kinsale AFC P |
| Carrigaline United AFC H | v | Carrigtwohill Utd AFC M1 |
| Corinthian Boys P | 5-0 | Macroom FC D5 |
| Springfield Ramblers B | 0-5 | Blarney United FC D1 |
| Castleview afc d1 | 5-1 | Bandon D1 |
U13
| | | |
| --- | --- | --- |
| Macroom FC D5 | 2-5 | Skibbereen AFC P |
| Springfield Ramblers B | 0-5 | Midleton FC P |
| Clonakilty AFC D1 | 0-3 | Mallow Town FC P |
| Ringmahon Rangers A | 5-0 | Blarney United FC D2 |
| Bantry Bay Rovers B1 | 1-5 | Bandon D3 |
| Springfield Ramblers C | 0-3 | Kilmichael Rovers F.C. B1 |
| St Marys D3 | 3-0 | Crosshaven AFC A |
| Douglas Hall P | 2-0 | Mallow United AFC P |
| Innishvilla AFC P1 | 2-0 | Kinsale AFC D5 |
| Kilworth Celtric A | 1-2 | Macroom FC D3 |
| Carrigaline United AFC P | 4-1 | Leeds AFC D2 |
| Passage AFC 2 | 3-2 | Bandon D6 |
| Kinsale AFC P | 1-5 | Riverstown FC D1 |
U14
Blarney United FC D2

3-0

Rockmount A

Leeds AFC D1

2-0

Crosshaven AFC A

Mogeely FC P

v

Kilmichael Rovers F.C. B1

Passage AFC 2

2-5

Castleview afc d1

Douglas Hall P

2-0

Midleton FC P

Round 2

Mallow United AFC P

5-1

buttevant soccer club D2

Watergrasshill United D4

v

Kilworth Celtric A

Bandon D5

v

Douglas Hall P

Springfield Ramblers B

1-2

Carrigaline United AFC P

Springfield Ramblers A

5-0

Lakewood Athletic FC A

Carrigaline United AFC H

v

Blarney United FC D2

Everton A.F.C. D3

1-5

Ringmahon Rangers A

Lakewood Athletic FC P

4-1

Riverstown FC D1

Bantry Bay Rovers P

v

Leeds AFC D1

Bandon D2

5-2

Corinthian Boys A

Leeds AFC D7

0-5

Corinthian Boys P

Kinsale AFC D1

2-1

Tramore Athletic A1

Ringmahon Rangers B

v

Bantry Bay Rovers B1

Castleview afc d1

v

Macroom FC D3

Youghal United D3

2-4

Avondale United D2

Park United D3

v

Mogeely FC P or Kilmichael Rovers
U15
Fermoy FC P

3-0

Kilworth Celtric A

Lakewood Athletic FC B

2-4

Tramore Athletic FC Cork D4

Ringmahon Rangers A

5-1

Rockmount A

Round 2

Passage AFC 1

2-0

Avondale United D5

Bandon D1

v

Mogeely FC P

Drinagh Rangers p

v

Midleton FC P

Midleton FC A

v

Leeds AFC D2

Youghal United D2

0-5

Park United D1

Tramore Athletic FC Corkl

v

Richmond FC C

Blarney United FC P

5-0

Corinthian Boys A

Springfield Ramblers A

0-3

Carrigaline United AFC P

Fermoy FC P or Kilworth Celtric A

v

CastlelackFC b

Leeside AFC 1

v

Ringmahon Rangers A

Wilton United D1

5-1

Corinthian Boys B

Corinthian Boys P

5-3

Riverstown FC D1

St Marys D2

0-2

Everton A.F.C. D1

Douglas Hall P

v

Bantry Bay Rovers P

Carrigaline United AFC H

2-0

Mallow United AFC Premier

Macroom FC D3

2-5

Lakewood Athletic FC A
U16
| | | |
| --- | --- | --- |
| Leeside AFC 1 | 5-0 | Carrigaline United AFC P |
| Buttevant soccer club D2 | 1-2 | Bandon D2 |
| Lakewood Athletic FC A | 3-2 | Avondale United D1 |
| Corinthian Boys A | 2-0 | Kinsale AFC P |
| Ballincollig AFC D1 | v | Wilton United D4 |
| Carrigaline United AFC H | v | Douglas Hall A |
| Springfield Ramblers A | 1-0 | Midleton FC P |
| Leeds AFC D1 | 3-0 | St Marys D2 |
| Crosshaven AFC A | 0-3 | Corinthian Boys P |
| Lyre Rovers P | 0-5 | Douglas Hall P |
| Ringmahon Rangers A | 5-0 | Passage AFC 1 |
| Drinagh Rangers p | 2-1 | Macroom FC D1 |
| Blarney United FC P | 5-1 | Youghal United D3 |
| St Marys P | 5-1 | Springfield Ramblers B |
https://sfai.ie/wp-content/uploads/2019/09/Mallow-Town-U12s-e1568668402155.jpg
438
750
Maeliosa Kyne
https://sfai.ie/wp-content/uploads/2022/07/cropped-SFAI-PNG-2-300x300.png
Maeliosa Kyne
2019-09-16 22:14:21
2019-09-16 22:14:21
RESULTS: Cork Region SFAI Skechers National Cup Round One