RESULTS: North Leinster SFAI Skechers National Cups Round One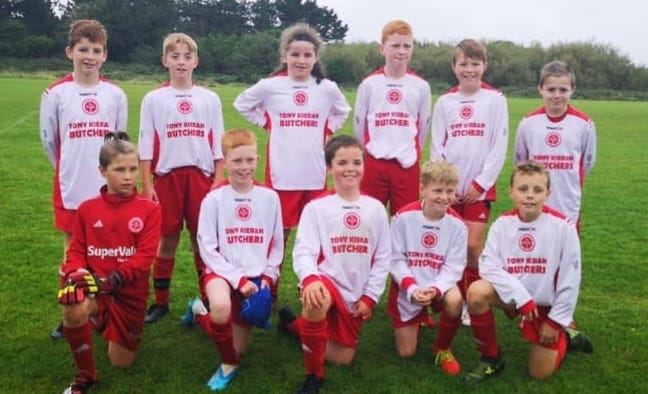 The first weekend of SFAI Skechers National Cup action got underway in North Leinster on Saturday and Sunday, and there was plenty to celebrate for many teams as they booked their place in the second round.
The overall competition sees 1,500 teams take part, and those that qualify from North Leinster in November will go into the National Round of 32.
Several teams picked up wins on the road at the weekend, and there some very impressive displays from a number of clubs.
Below are the results, and the draw for the next round can be found HERE
U12
| | | | | |
| --- | --- | --- | --- | --- |
| Laytown UTD FC 1 | | 3-4 | | Rock Celtic FC P |
| Athboy Celtic FC G1 | | 3-5 | | Ardee Celtic P1 |
| Glenmuir United FC A | | 3-1 | | Clonee Utd 12a |
| Torro United AFC Div 1 | | 8-7 | | Dunboyne AFC A |
| Blayney Academy FC P | | 3-0 | | Skerries Town FC B |
| Walshestown FC A1 | | 2-5 | | Navan Town Cosmos A |
| Ratoath Harps AFC P | | 4-1 | | Dingle United C |
| Mid Sutton FC C | | 1-5 | | Ashbourne Utd U12 P |
| Dunshaughlin Youths FC D | | 0-5 | | Square Utd D1 |
| Ardee Celtic P2 | | 5-2 | | Blayney Academy FC D1 |
U13
| | | | | |
| --- | --- | --- | --- | --- |
| Dunshaughlin Yts FC D | | 0-5 | | Parkvilla FC A |
| Kinsealy United P | | 3-0 | | Bohemian FC A |
| Torro United AFC Elite | | 5-2 | | Walshestown FC A1 |
| Rush athletic fc P | | 5-0 | | Athboy Celtic P1 |
| Balbriggan FC P | | 5-0 | | Clonee Utd 13p |
| Trim Celtic AFC P | | 3-0 | | Walshestown FC A |
| Ratoath Harps AFC P | | 3-0 | | Swords manor A |
| Balbriggan FC A | | 5-0 | | Laytown UTD FC B |
U14
| | | | | |
| --- | --- | --- | --- | --- |
| Rush athletic fc A | | 3-4 | | Boyne Rovers P |
| Clonee Utd 14elite | | 5-0 | | Malahide United A |
| Dunshaughlin Youths FC F | | 1-5 | | Lusk United AFC B |
| Maynooth Town FC U14P | | 1-2 | | Bohemian FC B |
| Dunboyne AFC A | | 1-0 | | Glenmuir United FC B |
| Navan Town Cosmos P | | 1-5 | | Skerries Town FC P |
| Swords manor Premier | | 3-0 | | Torro United AFC Prem |
| Walshestown FC A1 | | 2-3 | | Baldoyle United A |
| Rock Celtic FC P | | 1-4 | | Drogheda Town Fc A |
| Ardee Celtic P | | 1-5 | | Kingscourt Harps P |
| Parkceltic Summerhill P | | 2-3 | | Glenmuir United FC A |
| Albion Rovers P | | 3-0 | | KellsBlackwater FC A1 |
| Balbriggan FC P | | 0-2 | | Parkvilla FC A |
| Drogheda Marsh Crescent P | | 0-4 | | Ashbourne United U14B |
| Bellurgan United P | | 0-3 | | Donacarney Celtic FC P |
| Swords manor E | | 0-3 | | Balbriggan FC D |
U15
| | | | | |
| --- | --- | --- | --- | --- |
| Navan Town Cosmos p | | 5-2 | | Walshestown FC A1 |
| Swords Manor FC A1 | | 0-5 | | Rock Celtic FC P |
| Torro United AFC Prem | | 5-2 | | Balbriggan FC A |
| Ashbourne United U15 Pre | | 5-1 | | Dunshaughlin Youths FC D |
| Ardee Celtic P | | 2-3 | | Parkvilla FC A |
| Balbriggan FC P | | 3-0 | | KellsBlackwater FC A1 |
U16
| | | | | |
| --- | --- | --- | --- | --- |
| Clonee Utd 16p | | 5-1 | | Albion Rovers P |
| Donacarney Celtic FC P | | 1-2 | | Laytown UTD FC A |
| Dunboyne AFC A | | 0-5 | | Navan Town Cosmos p |
| Ardee Celtic P | | 5-2 | | Quay Celtic FC P |
| HHFC P | | 4-0 | | Balbriggan FC P |
https://sfai.ie/wp-content/uploads/2019/09/71059065_10156423634026003_4515978092484755456_n.jpg
394
648
Maeliosa Kyne
https://sfai.ie/wp-content/uploads/2022/07/cropped-SFAI-PNG-2-300x300.png
Maeliosa Kyne
2019-09-15 21:24:37
2019-09-15 21:30:01
RESULTS: North Leinster SFAI Skechers National Cups Round One