All eyes on SFAI Skechers Regional Cup Finals in Ulster this weekend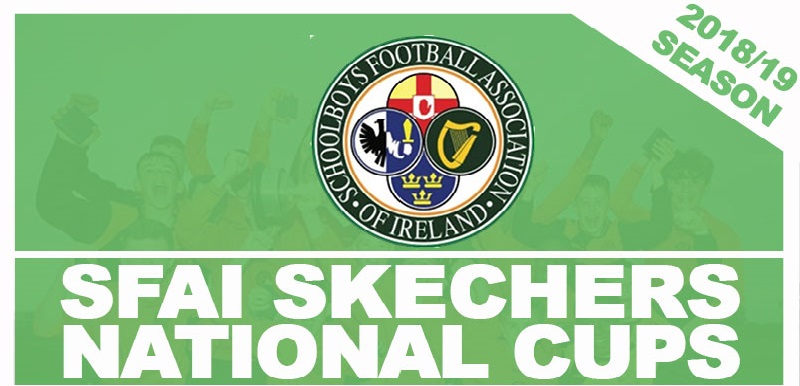 This weekend Letterkenny is the place to be, with five SFAI Skechers Regional Ulster Cup Finals taking place across Friday, Saturday and Sunday.
On Friday night, Bonagee United and Keadue Rovers will battle it out for the U15 prize under lights in Dry Arch Park – KO 7:30pm.
Bonagee have beaten off the challenge of Ballyjamesduff and Cavan Shamrocks on their way to the final, while for Keadue, they had to overcome Carrick Rovers in their first game and then Carndonagh FC in their second tie.
On Saturday, the action begins with Carrick Rovers taking on Carndonagh FC in the U12 competition in the Aura Centre – KO 12 noon.
Both sides come into the final in good form in the competition, having scored well in the previous three rounds, and it promises to be a very competitive tie.
Later in the day it is the turn of the U16s, and Carrick Rovers are again involved, this time taking on Letterkenny Rovers in Leckview Park – KO 2:30pm.
As with all the finals, this one should be very competitive, and the game will bring a close to the second day in Letterkenny.
On Sunday morning it will be the turn of the U13s, with Illistrin facing Carndonagh in Ballyare – KO 11am.
Illistrin have made it to the final after wins over Carrick Rovers and close a fought victory over Kilmacrennan Celtic, while for Carndonagh, wins against Cavan Shamrocks, Cappry Rovers and Cockhill Celtic have secured their place in Sunday's Final.
Ballyare will play host to both ties on Sunday, with the U14 final between Lagan Harps and Cavan Shamrocks kicking off at 1:30pm.
Among the wins for Lagan on the road to the final was a penalty shootout victory over Cappry Rovers, while for Cavan Shamrocks, lots of goals saw them overcome the likes of Monaghan United and Kilmacrennan Celtic.
Entry to all games will be €3 – with all monies raised going to Donegal Downs Syndrome Association.
U15 SFAI SKECHER CUP FRI 23rd NOV
Bonagee Utd v Keadue Rovers 7-30pm
Dry Arch Pk, Letterkenny
U12 SFAI SKECHERS CUP SAT 24th NOV
Carndonagh FC v Carrick Rvs NOON
Aura Centre, Letterkenny
U16 SFAI SKECHERS CUP SAT 24th NOV
Letterkenny Rvs v Carrick Rvs 2-30pm
Leckview Pk, Letterkenny
U13 SFAI SKECHERS CUP SUN 25th NOV
Illistrin FC v Carndonagh FC 11am
Ballyare, Letterkenny
U14 SFAI SKECHERS CUP SUN 25th NOV
Lagan Harps v Cavan Shamrocks 1-30pm
Ballyare, Letterkenny.
https://sfai.ie/wp-content/uploads/2018/09/Skechers-National-Cups-cut.jpg
386
800
Maeliosa Kyne
https://sfai.ie/wp-content/uploads/2022/07/cropped-SFAI-PNG-2-300x300.png
Maeliosa Kyne
2018-11-21 19:00:32
2018-11-21 19:04:09
All eyes on SFAI Skechers Regional Cup Finals in Ulster this weekend