RESULTS: Connacht SFAI Skechers National Cup Round One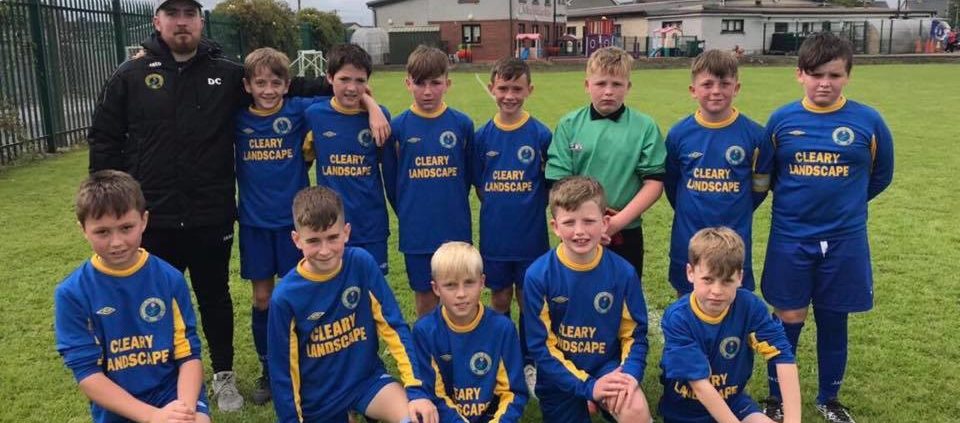 The first weekend of SFAI Skechers National Cup action got underway in the Connacht region last Saturday and Sunday, and there was plenty to celebrate for many teams as they booked their place in the second round.
The overall competition sees 1,500 teams take part, and those that qualify from the Connacht region in November will go into the National Round of 32.
Several teams picked up wins on the road at the weekend, and there were some very impressive displays from a number of clubs.
Below are the results, and the draw for the next round can be found HERE
U12
| | | |
| --- | --- | --- |
| Colemanstown United FC D | 2-5 | Strand Celtic FC A |
| Corrib Celtic A | 5-3 | Temple Villa FC P |
| AC Celtic AFC P | 0-4 | Manorhamilton Rgs A |
| Claremorris Soccer Club P | 0-1 | Arrow Harps Group A |
| Bearna Na Forbacha Aontaithe A | 1-3 | Maree Oranmore fc B1 |
| BALLYMOE FC A | 3-1 | St Francis FC Athlone P |
| MERVUE UNITED C | 3-0 | St Josephs A |
| St Josephs B | 0-3 | Gurteen Celtic A |
| MERVUE UNITED B | 5-4 | Ballina Town P |
| Westport Utd FC A | 5-0 | Newtown FC M1 |
| SALTHILL DEVON FC P | 3-0 | Manulla FC 4B |
| Skyvalley Rovers P | 4-0 | Manulla FC Premier |
| Colga Football Club P | 3-0 | Westport Utd FC C |
| MERVUE UNITED A | 5-0 | Kenagh United P |
| Maree Oranmore fc P | 5-1 | Hodson Bay Celtic Premier |
| Craughwell United FC | 3-0 | Snugboro United D2 |
| Melview fc Major | 3-2 | Boyle Celtic A |
| Knocknacarra FC A | 2-1 | Hodson Bay Celtic First |
| Athenry Football Club 1 | 3-0 | Moyne Villa FC C |
U13
| | | |
| --- | --- | --- |
| Melview fc Major | 1-5 | SALTHILL DEVON FC P |
| Westport Utd FC C | 5-0 | Corrib Celtic A |
| St Francis FC Athlone P | 0-3 | Arrow Harps Group A |
| Westport Utd FC A | 5-0 | Maree Oranmore fc D1 |
| MERVUE UNITED A | 4-1 | Boyle Celtic A |
| Ballyboro FC D2 | 3-4 | Athenry Football Club 1 |
| Gurteen Celtic A | 3-2 | Moyne Villa FC P |
| Strand Celtic FC A | 1-3 | Tuam Celtic AFC P |
| AC Celtic AFC P | 1-5 | Cregmore/Claregalway FC A |
| Kiltimagh Knock Utd A | 3-0 | Strokestown united Schoolboys |
U14
| | | |
| --- | --- | --- |
| Maree Oranmore fc P | 3-2 | Ballymote Celtic D1 |
| Hodson Bay Celtic First | 1-5 | Westport Utd FC A |
| Ballinasloe Town AFC P | 2-4 | galway hibernians premier |
| ballymahon afc m1 | P-P | Carrick Town AFC A |
U15
| | | |
| --- | --- | --- |
| Athenry Football Club 1 | 5-0 | Renmore AFC A |
| Cregmore/Claregalway FC A | 1-0 | SALTHILL DEVON FC P |
| Newtown FC M1 | 5-1 | Craughwell United FC U15 C |
| MERVUE UNITED A | 3-0 | Ballisodare United FC A |
| Tuam Celtic AFC P | 1-3 | Knocknacarra FC A |
| Moyne Villa FC C | 0-2 | Arrow Harps Group A |
| Maree Oranmore fc D1 | 3-0 | Carrick Town AFC D1 |
| Corrib Celtic A | 4-3 | St Johns Athletic D1 |
| Moore United P | 3-0 | Strand Celtic FC A |
| Galway hibernians C | 5-1 | Kenagh United P |
| Bearna Na Forbacha Aontaithe A | 1-4 | Colga Football Club P |
| Westport Utd FC A | 2-0 | Maree Oranmore fc P |
| Ballymahon afc m1 | 2-3 | Gurteen Celtic A |
U16
| | | |
| --- | --- | --- |
| MERVUE UNITED A | 3-1 | Cregmore/Claregalway FC A |
| Bearna Na Forbacha Aontaithe A | 4-1 | Claremorris Soccer Club P |
| SALTHILL DEVON FC P | 0-1 | Manorhamilton Rgs A |
| Westport Utd FC A | 3-0 | Ballisodare United FC A |
| Craughwell United U16 Division 1 | 0-3 | Merville United AFC A |
| Renmore AFC A | 2-3 | Kiltimagh Knock Utd A |
| Athenry Football Club 1 | 4-3 | Knocknacarra FC A |
| Tuam Celtic AFC P | 2-5 | Maree Oranmore fc D1 |
| Colemanstown United FC C2 | 3-0 | Castlebar Celtic A |
| Boyle Celtic A | 1-3 | Colga Football Club P |
https://sfai.ie/wp-content/uploads/2019/09/Manorhamilton-Rangers-U12s.jpg
540
960
Maeliosa Kyne
https://sfai.ie/wp-content/uploads/2022/07/cropped-SFAI-PNG-2-300x300.png
Maeliosa Kyne
2019-09-20 17:04:16
2019-09-20 17:04:16
RESULTS: Connacht SFAI Skechers National Cup Round One