West Cork, South Tipperary, NDSL and others progress in U13/U15 SFAI Subway Championship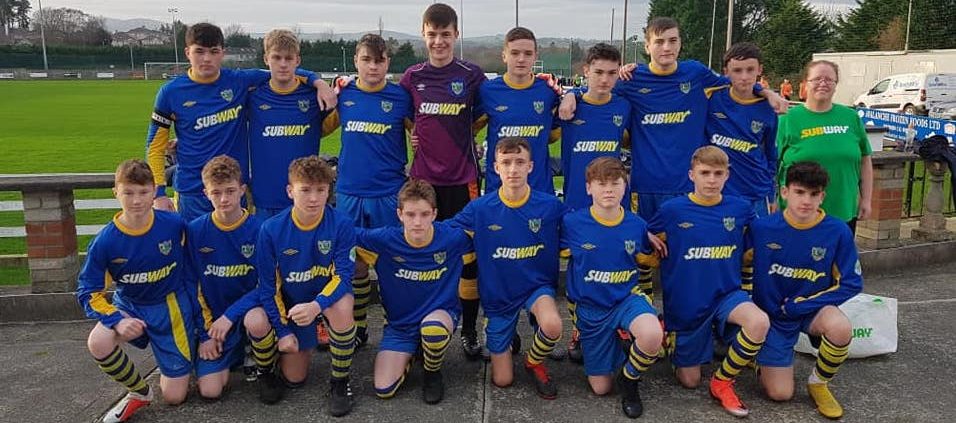 A thrilling day of football in the SFAI Subway Plate saw several teams progress as the opening round of knockout fixtures offered plenty of goals and excitement.
In the Munster U13 competition West Cork, South Tipperary and WWEC progressed to the regional semi-finals.
West Cork beat Limerick County 4-1, South Tipp came out on top of a thrilling tie against Clare, which ended 4-3, and WWEC edged it when they met North Tipperary, winning 1-0.
Next weekend sees the semi-finals, with West Cork facing WWEC, while Kerry welcome South Tipperary.
The U13 Leinster SFAI Subway Plate was also full of goals today, with the KDUL, NECSL and Midlands SL moving into the next round.
The KDUL beat the SDFL 5-1, NECSL were on the right side of a 3-2 scoreline when they met Wexford, and the Midlands SL were impressive against Wicklow, winning 5-0.
Next weekend sees the KDUL play Midlands SL and NDSL take on NECSL.
Meanwhile, in the U15 Leinster SFAI Subway Plate competition today, Wicklow were unlucky when they lost 2-1 at home to the NDSL.
That result sealed the semi-final pairings for next weekend, with Wexford at home to Midlands SL and Carlow playing NDSL.
There's also a host other ties next weekend, including the U13 Connacht SFAI Subway Plate Final, with the fixtures and today's results below or by clicking HERE
Today's Results:
Leinster U13 SFAI Subway Plate (06/01/2018)
KDUL 5-1 SDFL
NECSL 3-2 Wexford
Midlands 5-0 Wicklow
Leinster U15 SFAI Subway Plate (06/01/2018)
Wicklow 1-2 NDSL
Munster U13 SFAI Subway Plate (06/01/2018)
West Cork 4-1 Limerick County
Clare 3-4 South Tipperary
WWEC 1-0 North Tipperary
Fixtures 12th/13th January 2019
U13 Connacht Subway Plate
ADSL v Longford TBC
U13 Connacht Subway Plate Final
12/01/2018 Sligo/Leitrim v Inishowen 3pm – Showgrounds Astro
U13 Leinster Subway Championship
13/01/2018 Carlow v Kilkenny 1.30pm – Graiguecullen
13/01/2018 DDSL v Carlow 11am – Abbotstown
U13 Leinster Subway Plate
13/01/2018 KDUL v Midlands SL 12pm – Naas Sports Centre
12/01/2018 NDSL v NECSL 1pm – Oscar Traynor Centre
U15 Leinster Subway Championship
13/01/2018 DDSL v NECSL 1.30pm – Abbotstown
13/01/2018 KDUL v Kilkenny 2pm – Naas Sports Centre
U15 Leinster Subway Plate
13/01/2018 Wexford v Midlands SL 2pm – New Ross Celtic
13/01/2018 Carlow v NDSL 3pm – Graiguecullen
U13 Munster Subway Championship
13/01/2018 Limerick Desmond v Waterford 2pm – Rathkeale
13/01/2018 Cork v Limerick District TBC 2pm – Ballea Astro
U13 Munster Subway Plate
13/01/2018 West Cork v WWEC 2.30pm – Canon Crowley park
13/01/2018 Kerry v South Tipperary 2pm – Mounthawk Park
https://sfai.ie/wp-content/uploads/2019/01/49292661_522515868236216_3075976721795645440_n.jpg
461
956
Maeliosa Kyne
https://sfai.ie/wp-content/uploads/2022/07/cropped-SFAI-PNG-2-300x300.png
Maeliosa Kyne
2019-01-06 20:13:49
2019-01-08 18:36:10
West Cork, South Tipperary, NDSL and others progress in U13/U15 SFAI Subway Championship