SFAI SUBWAY CHAMPIONSHIP FIXTURES 15/16 DECEMBER 2018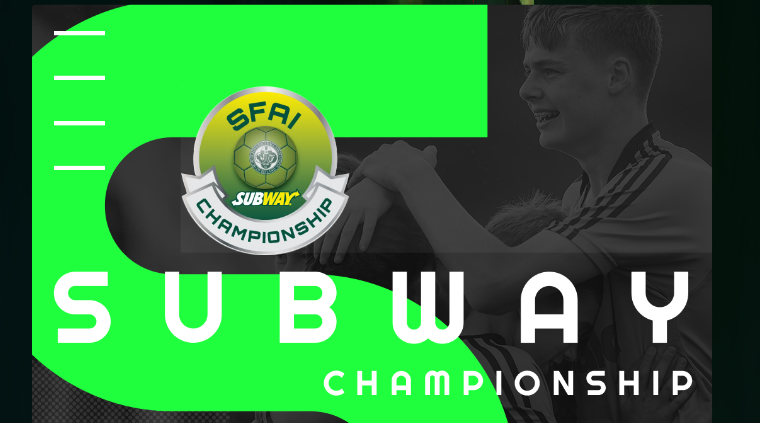 There will be plenty of action taking place in the SFAI Subway Championship this weekend, with many of the groups at U13 and U15 coming to an end.
In Munster, the U15 semi-finals in both the Championship and Plate take place, while in Connacht, Galway and Mayo will battle it out for places in the U15 and U16 national semi-finals.
The full list of fixtures correct at the time of postings are as follows….
U12 Connacht
15/12/2018 RDYSL v Athlone 11am – Shiven Rovers
16/12/2018 Mayo v Longford 12pm – MIlebush
U13 Connacht
16/12/2018 Galway v Longford 1pm – Deacy Park
15/12/2018 Mayo v Athlone 1pm – Milebush
U15 Connacht
14/12/2018 Galway v Mayo 7:30pm – Deacy Park
U16 Connacht
15/12/2018 Mayo v Galway 2pm – Solar 21 Park
U13 Munster
16/12/2018 Kerry v Limerick County 12pm – Mounthawk Park
16/12/2018 Limerick Desmond v Limerick District 2pm – Rathkeale AFC
16/12/2018 Clare v North Tipperary 2pm – Cassidy Park
16/12/2018 Cork v WWEC 12pm – Ballea Astro
16/12/2018 West Cork v Waterford 2pm – Cannon Crowley Park
U15 Munster (Knockout)
16/12/2018 Cork v Limerick County 12pm – Ballea Astro
16/12/2018 Clare v Waterford 12:30pm – Lees Road
16/12/2018 South Tipperary v Kerry 2pm – Cahir Park
U13 Leinster
15/12/2018 NECSL v Wicklow 4pm – MDL Grounds
16/12/2018 Carlow v SDFL 3pm – Leighlinbridge
16/12/2018 Wexford v Kilkenny 2pm – Curracloe United
16/12/2018 Midlands v DDSL 12pm – Gainstown
16/12/2018 Kildare v NDSL 14:30 – Naas Sports Centre
U15 Leinster
15/12/2018 NECSL v Midlands 2pm – MDL Grounds
16/12/2018 Carlow v NDSL 1:30pm – Leighlinbridge
U16 Leinster
16/12/2018 NDSL v Wicklow 3:30pm – Arklow Town
https://sfai.ie/wp-content/uploads/2018/09/2018-09-28-15.24.28.png
443
760
Maeliosa Kyne
https://sfai.ie/wp-content/uploads/2022/07/cropped-SFAI-PNG-2-300x300.png
Maeliosa Kyne
2018-12-14 19:40:37
2018-12-14 19:40:37
SFAI SUBWAY CHAMPIONSHIP FIXTURES 15/16 DECEMBER 2018